Useful re'ces
The resources here have all been created, recommended or suggested by members of Manresa Link.
Art and Prayer – An Introduction

In the words of St Theresa of Avila, "Now let us return to our beautiful and delightful castle and see
how we can enter it." (Interior Castle). There are many ways to enter the castle of our inner life
where God is present in our soul. This podcast offers some ideas about art and prayer.
Lectio Divina is a practice of meditating on one word or a phrase from Scripture that strikes the
heart. Hearing the word that is meaningful in that moment, the person praying gently meditates on
that word, allowing it to ruminate within, and to give rise to connections within daily life. The time
of meditation within the Lectio Divina prayer can be deepened with the use of art materials, as
illustrated in the video clip.

This time of prayer may conclude with a period of resting in God's presence, simply enjoying being
there, in the way that a person might sit before a beautiful sunset, their whole being content to just
look and take it all in and savour that moment of grace.

Some suggestions for scriptures to pray with during Advent:
Isaiah 9: 2; 6; Isaiah 11: 1-3a; Isaiah 7: 14; Luke 1: 26-38; Matthew 25: 1-13
The RC Birmingham Archdiocese website, is offering a series of articles on the Gospel of Matthew, featuring Peter Clare's paintings and reflections by Fr Dries van den Akker SJ (Peter Clare is the husband of Carol Clare, a ML member, and many other members will be quite familiar with his work. Many of his paintings are on display at Manresa House)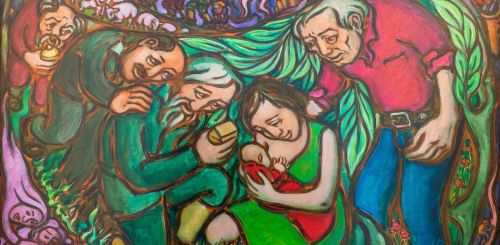 The series can be seen here: https://www.birminghamdiocese.org.uk/pages/category/matthews-gospel-reflections-2020
Websites
https://www.pathwaystogod.org/resources
Ideas and resources for prayer from the Jesuits in Britain.
http://www.pray-as-you-go.org/home
Offers a daily 10-minute prayer framework, best downloaded as an app, but also usable direct from your PC or laptop.
http://www.sacredspace.ie
Daily prayer online, also available as an app.
http://www.ignatianspirituality.com
A huge range of resources, made available by the US publishing company, Loyala Press.
Books - IGNATIAN SPIRITUALITY
GOD OF SURPRISES
Gerard W Hughes SJ
Darton, Longman & Todd, ISBN: 978-0-23252-725-4
GOD IN ALL THINGS
Gerard W Hughes SJ
Hodder & Stoughton, ISBN 978-0-34086-151-6
THE JESUIT GUIDE TO (ALMOST) EVERYTHING: A Spirituality for Real Life
James Martin SJ
HarperOne, ISBN 978-0-06143-269-9
EYES TO SEE, EARS TO HEAR: An Introduction to Ignatian Spirituality
David Lonsdale
Darton, Longman & Todd, ISBN 978-0-23252-198-6
AN ADVENT PILGRIMAGE: Daily Reflections and Prayers for Advent
Paul Nicholson SJ
KM Publishing, ISBN 978-1-84867-643-5
WHEN YOU PRAY
Finbarr Lynch SJ
Messenger Publications, ISBN 978-1-87224-586-7
SLEEPING WITH BREAD: Holding What Gives You Life
Dennis Linn, Sheila Fabricant Linn & Matthew Linn
Paulist Press, ISBN 978-0809135790
THE SPIRITUAL EXERCISES OF SAINT IGNATIUS
Trans. Michael Ivens SJ
Gracewing, ISBN 978-0-85244-404-7
Books - SPIRITUAL DIRECTION
THE PRACTICE OF SPIRITUAL DIRECTION
William A. Barry & William J. Connolly
HarperOne, ISBN 978-0061652639
UNDERSTANDING THE SPIRITUAL EXERCISES: A Handbook for Retreat Directors
Michael Ivens SJ
Gracewing, ISBN 978-0-85244-486-9
HOLY LISTENING: The Art of Spiritual Direction
Margaret Guenther
Darton, Longman & Todd, ISBN 978-0232520088
THE SPIRITUAL EXERCISES RECLAIMED: Uncovering Liberating Possibilities for Women
Katherine Dyckman, Mary Garvin & Elizabeth Liebert
Paulist Press, ISBN 978-0809140435
LOOKING INTO THE WELL: Supervision of Spiritual Directors
Maureen Conroy, RSM
Loyola University Press, ISBN 978-0829408270

RETREATS IN EVERYDAY LIFE: A Handbook for a Month of Individually Guided Prayer
William V. Thompson
Open Door Publications, ISBN 0-9551859-0-4
Highly recommended for people organising an individually guided retreat.
Books - THE LINK BETWEEN THERAPY AND SPIRITUAL DIRECTION
PSYCHOTHERAPY AND SPIRITUAL DIRECTION: One Language, Two Voices?
Lynette Harborne
Karnac Books, ISBN 978-1780490182
ENRICHING MINISTRY: Pastoral Supervision in Practice
Ed. Paterson & Rose
SCM Press, ISBN 978-0334049562
SPIRITUAL ACCOMPANIMENT AND COUNSELLING: Working with Psyche and Soul
Ed. Peter Gubi
Jessica Kingsley Publishers, ISBN 978-1849054805
Books - IMAGES OF GOD
YOUR GOD IS TOO SMALL: A Guide for Believers and Skeptics Alike
J. B. Phillips
Touchstone Books, ISBN 978-0-74325-509-7
A HEART FOR CREATION: Worship Resources and Reflections on the Environment
Chris Polhill
Wild Goose Publications, ISBN 978-1905010677
GOOD GOATS: Healing Our Image of God
Dennis, Sheila & Matthew Linn
Paulist Press, ISBN 978-0809134632
Other helpful books
BECOMING HUMAN
Jean Vanier
Darton, Longman & Todd, ISBN 978-0232523362
SADHANA - A WAY TO GOD: Christian Exercises in Eastern Form
Anthony de Mello
Bantam Doubleday Dell, ISBN 978-0385196147
WELLSPRINGS: A Book of Spiritual Exercises
Anthony de Mello
Bantam Doubleday Dell, ISBN 978-0385196178