Useful resources
The resources here have all been recommended or suggested by members of Manresa Link.
The RC Birmingham Archdiocese website, is offering a series of articles on the Gospel of Matthew, featuring Peter Clare's paintings and reflections by Fr Dries van den Akker SJ (Peter Clare is the husband of Carol Clare, a ML member, and many other members will be quite familiar with his work. Many of his paintings are on display at Manresa House)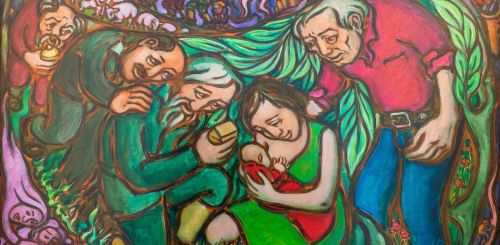 The series can be seen here: https://www.birminghamdiocese.org.uk/pages/category/matthews-gospel-reflections-2020
Websites
https://www.pathwaystogod.org/resources
Ideas and resources for prayer from the Jesuits in Britain.
http://www.pray-as-you-go.org/home
Offers a daily 10-minute prayer framework, best downloaded as an app, but also usable direct from your PC or laptop.
http://www.sacredspace.ie
Daily prayer online, also available as an app.
http://www.ignatianspirituality.com
A huge range of resources, made available by the US publishing company, Loyala Press.
Books - IGNATIAN SPIRITUALITY
GOD OF SURPRISES
Gerard W Hughes SJ
Darton, Longman & Todd, ISBN: 978-0-23252-725-4
GOD IN ALL THINGS
Gerard W Hughes SJ
Hodder & Stoughton, ISBN 978-0-34086-151-6
THE JESUIT GUIDE TO (ALMOST) EVERYTHING: A Spirituality for Real Life
James Martin SJ
HarperOne, ISBN 978-0-06143-269-9
EYES TO SEE, EARS TO HEAR: An Introduction to Ignatian Spirituality
David Lonsdale
Darton, Longman & Todd, ISBN 978-0-23252-198-6
AN ADVENT PILGRIMAGE: Daily Reflections and Prayers for Advent
Paul Nicholson SJ
KM Publishing, ISBN 978-1-84867-643-5
WHEN YOU PRAY
Finbarr Lynch SJ
Messenger Publications, ISBN 978-1-87224-586-7
SLEEPING WITH BREAD: Holding What Gives You Life
Dennis Linn, Sheila Fabricant Linn & Matthew Linn
Paulist Press, ISBN 978-0809135790
THE SPIRITUAL EXERCISES OF SAINT IGNATIUS
Trans. Michael Ivens SJ
Gracewing, ISBN 978-0-85244-404-7
Books - SPIRITUAL DIRECTION
THE PRACTICE OF SPIRITUAL DIRECTION
William A. Barry & William J. Connolly
HarperOne, ISBN 978-0061652639
UNDERSTANDING THE SPIRITUAL EXERCISES: A Handbook for Retreat Directors
Michael Ivens SJ
Gracewing, ISBN 978-0-85244-486-9
HOLY LISTENING: The Art of Spiritual Direction
Margaret Guenther
Darton, Longman & Todd, ISBN 978-0232520088
THE SPIRITUAL EXERCISES RECLAIMED: Uncovering Liberating Possibilities for Women
Katherine Dyckman, Mary Garvin & Elizabeth Liebert
Paulist Press, ISBN 978-0809140435
LOOKING INTO THE WELL: Supervision of Spiritual Directors
Maureen Conroy, RSM
Loyola University Press, ISBN 978-0829408270

RETREATS IN EVERYDAY LIFE: A Handbook for a Month of Individually Guided Prayer
William V. Thompson
Open Door Publications, ISBN 0-9551859-0-4
Highly recommended for people organising an individually guided retreat.
Books - THE LINK BETWEEN THERAPY AND SPIRITUAL DIRECTION
PSYCHOTHERAPY AND SPIRITUAL DIRECTION: One Language, Two Voices?
Lynette Harborne
Karnac Books, ISBN 978-1780490182
ENRICHING MINISTRY: Pastoral Supervision in Practice
Ed. Paterson & Rose
SCM Press, ISBN 978-0334049562
SPIRITUAL ACCOMPANIMENT AND COUNSELLING: Working with Psyche and Soul
Ed. Peter Gubi
Jessica Kingsley Publishers, ISBN 978-1849054805
Books - IMAGES OF GOD
YOUR GOD IS TOO SMALL: A Guide for Believers and Skeptics Alike
J. B. Phillips
Touchstone Books, ISBN 978-0-74325-509-7
A HEART FOR CREATION: Worship Resources and Reflections on the Environment
Chris Polhill
Wild Goose Publications, ISBN 978-1905010677
GOOD GOATS: Healing Our Image of God
Dennis, Sheila & Matthew Linn
Paulist Press, ISBN 978-0809134632
Other helpful books
BECOMING HUMAN
Jean Vanier
Darton, Longman & Todd, ISBN 978-0232523362
SADHANA - A WAY TO GOD: Christian Exercises in Eastern Form
Anthony de Mello
Bantam Doubleday Dell, ISBN 978-0385196147
WELLSPRINGS: A Book of Spiritual Exercises
Anthony de Mello
Bantam Doubleday Dell, ISBN 978-0385196178